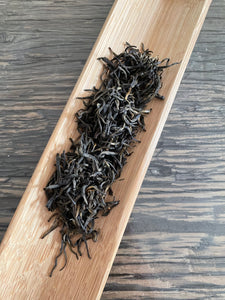 Zheng Shan Xiao Zhong
Regular price
Sale price
$31.32
Tax included.
Shipping
calculated at checkout.
---
Type: Black tea from WuYi Mountains, Fujian
Producer: Mr Li
Location: WuYi Mountains, Temple of Heavenly Longevity, on the Roasted Smell Summit (TianShouMiao, KaoXiangDing)
Period: April 2020
A very sweet black tea ...
An unexpected encounter gives us the chance to offer this tea: one rainy day in Wuyishan, a tea producer gave us a lift Since then we regularly delight in his teas.
Black teas were invented by mistake in the 17th century in one of the valleys of what would become the ecological protected area of ​​the Wuyi Mountains, the Tong Mu Guan valley. One spring, when a troop of mercenaries passed by, the tea farmers got scared and took refuge in the mountains, leaving their harvest of the day behind them. On their return, they found their leaves soiled and oxidized. In order not to lose the harvest, they decided to smoke these leaves with spruce wood and sold them at a discount to European merchants. This tea called Laaph Song Su Chong in Cantonese, soon became a world reference and paved the way for great black teas and smoked teas.
Faced with the Lapsang Souchong produced everywhere in China and elsewhere, the producers from Wuyishan renamed their tea ZhengShan XiaoZhong: tea made from small leaves from the original mountain (that is to say from the original production area). Since the 17th century, the farmers of TongMuGuan have been at the forefront of innovation in terms of black tea. It was here that the producers were formed who exported the production of quality black tea throughout China, such as the Qimen. It was also them who, twenty years ago, reinvented XiaoZhong and created from the same wild tea trees a black tea of ​​buds, JinJun Mei, both unsmoked to meet the expectations of Chinese amateurs in search of new teas.
Our XiaoZhong does not come from TongMu Valley, but from a few kilometers to the east in the ecological zone of WuYiShan Natural Park, in an area where rock teas are traditionally produced. For generations, our friend Li's family has also grown some wild TongMu tea trees in these gardens to produce beautiful black teas.
This year's harvest gives us a very silky tea, reminiscent of toffees as well as candied citrus fruits. A very pleasant tea, very sweet ...